The TC2410 :
The TC2410 transmitting micro colour camera.
Size 29mm*24mm*58mm, with 1/4" DSP CCD(not CMOS) 290,000 pixels PAL camera module, 4.3mm pinhole lens, 3 lux sensitivity and 330 lines resolution, sensitive internal microphone, 50 Ohm antenna with SMA connector, Runs off 9.0v DC plug pack (do not use 12 v) and draws 280 mA, complete with mounting hardware, Four selectable synthesised Frequencies of 2.413,2.432, 2.450, 2.470. GHz, (Has NZ Radio Frequency Services ,Certificate of Compliance) , is also matched for use with the portable 5.6" 2,4 GHz colour LCD receiver elsewhere in this website
$400 plus gst each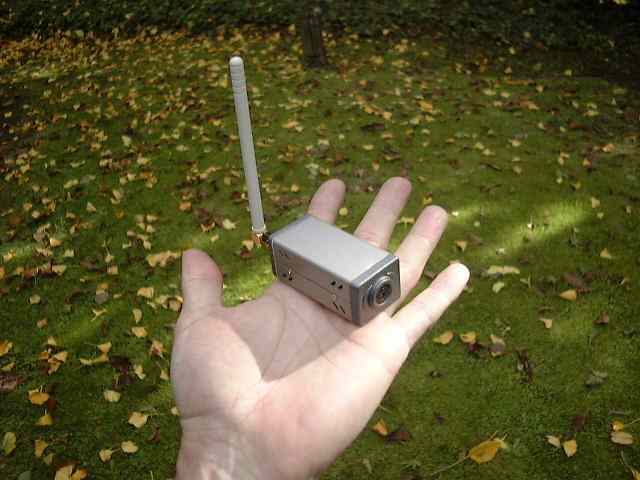 The RX2400
RX2400 scanning receiver for the above transmitting camera, can support up to four cameras sequentially and runs off 12 vDC plug pack. Has "dual" video and mono-audio outputs(RCA), 50 ohm antenna attached by SMA connector ,1 meter AV cable with RCA plugs, has audio mute function and can scan programmed channels. easy installation.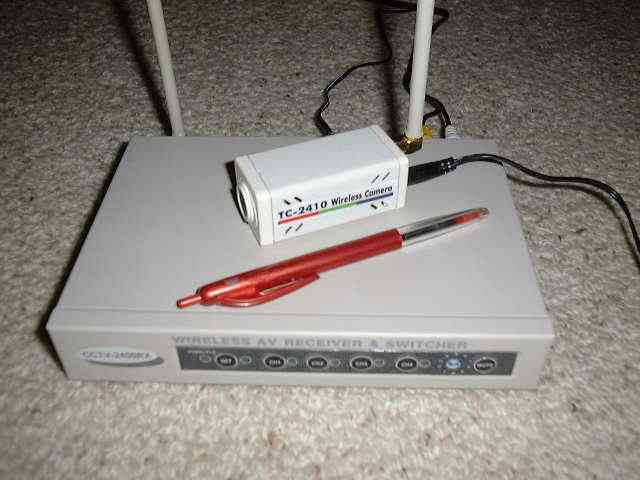 $150 plus gst each
These units form the ideal setup for visual security in the home or business. The colour picture produced by the sensitive DSP CCD camera is bright and clear (however this camera is NOT infra Red sensitive). The wireless factor means easy installation and the promise of mobility. Because of its low current drain (280mA), the camera could be operated from batteries if required, i.e. a 7 Ah 12v gel cell with a electronic voltage dropper to 9.0 v, can give up to 25 Hrs of continuous operation. The receiver can monitor up to four cameras, each on a different frequency, by scanning them in sequence and stopping on each channel for a number of seconds. The scanning can be stopped and held on channel for close monitoring by the push of the channel button.
This tiny camera could also be used on a model aircraft, a plane or helicopter as it only weighs about 90 gms. Run the camera on a 9.0 v nicad pack and the receiver on the ground can be run of a 12v gel cell .The aerial video can be recorded into a handicam via the AV outputs on the back of the receiver and viewed directly in the LCD monitor or eye piece and recorded for playback at a later date!
Use to monitor a farm gate for security reasons if the object being watch is beyond line of sight you can use a video sender/receiver pair as an over the hill video repeater!
Contact:
Pinfold Health Services Ltd.,1172 Arawa st,Rotorua 3201,New Zealand. ph +64-7-3488850 fax +64-7-3486555 pinfold@xtra.co.nz
return to CONTENTS page