Helmet Camera
There are those of you who would like to try helmet cam but where a bit put off by the price of all the equipment required to do it ,a handycam and remote camera ! $$$$$$$ , Well now you can at a reasonable cost and with quite good performance .
The unit is a helmet mounted video camera which records sound and colour video at 25 frames per second in computer VGA format (640X480); storing the video as an AVI file at about 1 Mb per second on average , a 2Gb card is about 2000 seconds worth of recording ( very approximately) .
The camera ( not waterproof) is powered by two AAA cells and records on SD media , it is controlled by the sequential pressing of a large accessible button on the top of the camera , the selected function is displayed on a small LCD display on the side of the camera body
( just a note on using SD Media cards ) Most computers and card readers will handle SD cards up to 2 Gb , however the legacy card readers may not ( and usually) wont read the new High Density SD cards with a capacity greater than 2 Gb ie 4Gb 8 Gb etc so just be mindful of the fact that if you drop a 4 Gb card in this camera ......will you be able to view it directly on the home PC / laptop card reader ?? , you can purchase from outlets ie dick smith and Jaycar electronics outboard USB based hi Density card readers to enable this at reasonable prices .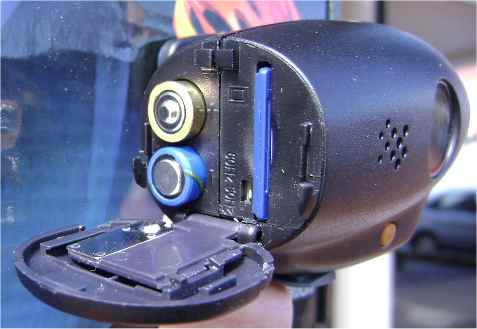 For those of you that do not have a card reader , do not worry as the camera also has a USB connection facility . Where upon connecting the cable from the camera into the computer enables the use of the camera SD card as an external memory unit so you can go into it and down load the movie files that way ..
The easiest way to attach the unit to the helmet is by sticky back Velcro hooks and wool , one piece on the helmet and its mating surface on the camera . Velcro itself sticks like the proverbial to a dry blanket , make sure you have a clean dry grease fee surface to enable the "sticky: side to adhere firmly . I have never had Velcro wool to hooks peel off while I am riding ever ! but I have seen the sticky surface lift because I never cleaned the helmet thoroughly .
What is the picture like ?? well it was with a bit of trepidation that I ordered evaluation models to try , and I was pleasantly surprised with the quality of the resulting Picture . it is very good quality , sharp as it uses a 0.3megpixel cmos camera and provides good colour , contrast and detail , I'd say very good for a $225 unit
Hints for use :
I mounted on the right side of my open face helmet with some sticky Velcro as I found the supplied elastic strap was not long enough to go around my helmet . The unit has a small red laser sighting aid , this is actually quite useful to orientate to camera to "look" in the correct direction. it pulses on and off when the camera is in standby mode ,ready to start recording . when you initiate recording ,the camera sounds a " beep " . The position and angle of the camera attached to the helmet , will depend on your riding style ,posture etc , so be prepared to fiddle a bit before you get it right , Your first trial run will be a disaster ! you will be surprised as to how much you move your head around when you ride ! your vision compensates for this and the extreme wide angle of our own built in optics ( both eyes) and powerful image processing of our brain is such that we dont notice it all , however you will notice the movement when reduced to the 50 degree viewing angle of the camera!! with a bit of practice you will get it right , you could even mount the camera on the bike itself, that will be more steady platform . Use it as a small handheld handicam as well at rallies and the like to record stuff off the bike ... The sky's the limit . xp2000 has Windows movie maker with it as well and although an entry level software package, is a good start to edit your movies and stitch them together ...have fun !
NZ$80 plus postage intro price ( out of stock )
| | |
| --- | --- |
| Model | PVR-309B |
| Image sensor | 1/6 color CMOS |
| Pixel | 300,000 pixels |
| Audio | Support |
| View Angle | 50 degree |
| Interface | USB 2.0 |
| Store Memory | Support external SD card up to 16G |
| Video File Size | about 40M per minute |
| Recording Mode | Manual |
| Video formats | AVI |
| Video resolution (Video recording) | 640*480 pixels |
| Video Record Speed | 30 FPS |
| Battery Type | 2 pcs 1.5V AAA batteries |
| Working Current | 100mA |
| Operating temperature | 0 to +50°C |
| Storage temperature | -10 to 60 °C |
| Outer Packing | 157mm*142mm*65mm |
| Net weight | 75g |
| Gross weight | 362g |
Want to go back to Motorcycle communications? ...... click here!
Contact:
Pinfold Health Services Ltd., 1172 Arawa St. ,Rotorua , New Zealand ph +64-7-3488850 fax +64-7-3486555 pinfold@xtra.co.nz