BT1000 Long range bluetooth (out of stock ) now see Interfone 1.2 below
Cellphone Walkie Talkie holder
The INTERFONE 1.2
The latest arrival, A somewhat more robust and waterproof version of the new generation of class 1 long range Bluetooth bike to bike - rider -pillion full duplex intercom , It does much the same as the earlier bt1000, like cell phone connection , external Bluetooth music dongle ; however it has an additional MP3 connection cable supplied . This enables one to use an external wired mp3/Ipod music player with the system and not have to purchase the addition stereo music Bluetooth dongle thus saving money . when the intercom operates the music is cut ,when the intercom cuts off the music , but it returns when the intercom function returns . the Interfone has no control over your music source and in reality it keeps playing , you cannot control the MP3 Volume from the Interphone ,but must do it from the music source .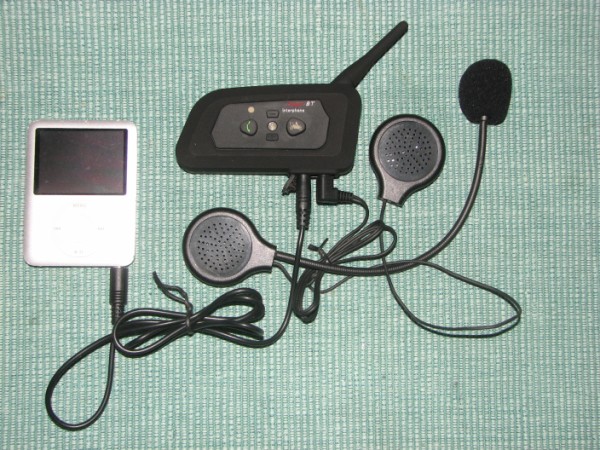 The New Interphone 1.2 (supplied as a pair ) but without the Ipod

The antenna is a somewhat swept back configuration and consists of a 2.5 Ghz sleeve dipole within a plastic protective tube fed from a class 1 bluetooth setup ,the Bluetooth chipset being the English made CSR brand . talk time is still 7 hrs+ and the range is very good , in fact I think much greater than the older style BT1000 , I did a static test with my son standing on the roadside ( Highfield pl , tarawera Rd. Lynmore . Rotorua) and I drove line of sight , 1.2Km down the road where I got out of the vehicle and stood outside and could still talk , he was clear as a bell . Id be keen to try it one day in a clear line of sight area with no traffic and see how far one can go before the signal just cant hold any more !
The interphone is supplied as a pair with... usb charging cable,..... MP3 connection cables, ..... 230V plug packs , .....mechanism for attaching to the helmet and instruction manual , ....... all you need for riding away talking .
The Bluetooth chipset in this unit is made by a UK company CSR, it is the same brand that is used in the much more expensive "" other brands" bluetooth bike to bike units sold on the web at grossly exorbitant prices so why pay all that extra money when essentially you are purchasing similar and in a lot of cases better performance product Why do I assume the interfone 1.2 goes better than other units ? simple..... because of its RF design . It uses a more efficient full size 2.4 Ghz sleeve dipole antenna mounted up on the outside of the unit for less restricted " antenna view" . most of the other "expensive " bluetooth systems use a small less efficient chip antenna down on the circuit board in among the electronic components .where signals cant get to quite so easily...

I did a riding test on the new Interphone , I on the 1973 commando 850 and my Friend on his 1978 750 triumph tiger , we don't have flash hi tech helmets so they both aren't quiet helmets , we went for a good hour ride out to a favorite beer and sausage place and back , the units worked very well and we could easily talk at 100-120 Kph though above 150 Khp the wind noise in my helmet made it very difficult albeit impossible to hear , basically ,being Bluetooth and operating at 2.45 Ghz, the communications are restricted to line of sight and generally we established that , " if you can see your riding buddy you can talk to them ". I f he gets over the brow of a hill too much, the comms will start to break up .What we did notice is that at outer limits of straight line communications ~ 1Km , vehicles in between did cause a small amount of interference blocking the signal momentarily . , I was very surprised at the situations where my riding buddy was well way out of sight but I could still hear snippets of signal still coming through but totally unintelligible , these small blips in signal help keep the Bluetooth "Locked" and as soon as signals get stronger the system is fully synchronised and the speech becomes clear . However if the communications link between the units is lost completely for more than 30 seconds, the headsets will drop back to standby mode , indicated by a "beep" heard in the ear ,and either user will have to reinitiate intercom mode by pushing the intercom button, when back in visual range .
There is plenty of volume ,in fact more than enough for the older deaf rider , or if you like to use earplugs as well .
The module pictured above is relatively straight forward to attach to the left hand side of your helmet ( you need a small blade screwdriver ) the earphones are held inside the helmet with a velcro hook backing on the speakers , Check the inside of the microphone foam to see where the mic opening is to make sure its facing your mouth and not the outside of the helmet . Make sure you position the earspeaker directly over your ear canals , Dont put them in the ear spaces in your helmet , as this is back behind the earcanals and you wont hear them very well at all ..
These are not a VOX operated intercom and Im not a fan of vox as it has to be well set up and the user must understand the constraints of the system ,I like to keep things simple for the non technical types ...
To initiate the intercom, either user presses the large rear button ( helmet/ motorcycle-picture button) near the antenna end briefly and this turns the intercom function on . When you have had enough talking, either party can push their "helmet" button and turn the intercom function off . Its an off-on function , Note the first time you initiate the intercom function it will take several second to "synchonise" once this is achieved it turns off and on quickly .
Pair the units to your Bluetooth enabled cellphone for phone calls or music if your phone is mp3 capable .
This Bluetooth unit will pair with the motorola smart phone . Iphone 4 and samsung galaxy s2 enables phone call reception and to play music from the phones !!
If you happen to have a pair of our K series in helmet headsets from a previous system . We have available adapters $10 to enable use of our K series headset with either of our Bluetooth systems , The K series headset will enable clearer comms at much higher speeds than the standard supplied headset , but now you will be up in expensive/loss of licence speeds.
We have sold many to lots of satisfied and contented customers ,They are value for money no doubt .
These will be the same introductory price at NZ$200 for a pair of units . ( of course the ipod is not supplied in the deal)

CELL-PHONE / WALKIE-TALKIE HOLDER
cellphone mount Walkie Talkie holder Adjustment and attachment details
Here is a great piece of kit to hold your walkie talkie , Radar Detector or cellphone on the bike ,you will find the cellphone performance is much improved range wise if its not in your pocket pressed up against your body , your body lard sucking up precious cell signal . This is a great setup to use with one of our matching $50 Bluetooth cellphone setup ,also of pairing your Bluetooth intercom to the phone as well for Music or phone calls . You can also hold your bike to bike /radio .To prevent the cellphone being bounced out of the holder on a rough patch, id place a large rubber band around for added safety . The Unit can connect to a switched source of 12v from the bike and it also has a 5 v power output unit so one could charge their cellphone from it via the several adapters supplied for common phones , Do not overtighted the swivel ball adjustment as the unit is only made of plastic you will fracture the tightening nut out of the internals .. ( we have just modified all our cellphone holders with a 10mm flange nut and now you will not fracture the retaining nut , )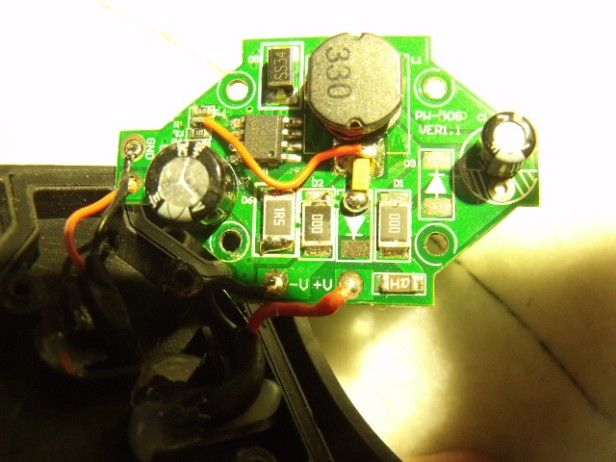 12v input 5 v out switching regulator regulator in case anti rotation lock on back of holder
NZ$25 intro price
Want to go back to Motorcycle communications? ...... click here!
Pinfold Health Services Ltd,1172 Arawa St, Rotorua 3201,New Zealand. ph +64-7-3488850 fax +64-7-3486555 pinfold@xtra.co.nz

return to CONTENTS page