Intra Oral Camera: Basic unit and Quad freeze frame unit both (PAL)
This is a light but ergonomically designed, hand held full frame display Intra oral camera for Dental use , The kit comprises , 230 to 12 volt @1 amp power source , RCA male terminated video cable , Camera - video power interface unit , Auto off hook switch to attach to dental chair, 2 meter camera cable , clear plastic envelopes for covering the camera when in use , everything but the colour monitor .
The unit has a Sony colour HAD CCD image sensor ( it is not cmos!) the picture is 752 (H) by 583 (V), 410,000 pixels with an amazing resolution of 470 lines ! It has a minimum illumination sensitivity of 1.5 Lux @ F1.2 , The S/N ratio is 46dB and has Auto white balance. Illumination is by 6 integral white Light emitting diodes contained within the head hence additional illumination is not required. The video out is either Y-C output or 1V p-p into 75 ohms ( standard ) suitable for use with the AV input to a domestic TV monitor ..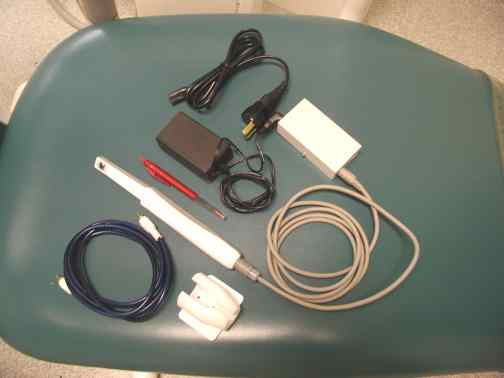 The unit is very simple and straight forward to assemble, it has the additional feature of turning itself off when placed in the supplied dental chair camera cradle
The small camera head has a fixed focal range of about 8-10 mm and its high resolution CCD image sensor provides extremely detailed and true colour pictures on screen, it has to be seen to be believed! There is no provision for printing or saving monitor images but it could be easily connected to a surgery computer via an inexpensive on board computer video capture card for image storage or colour print-out via a suitable colour inkjet printer.
The camera is small, light, non threatening and easy to use . It is a great tool for patient education, oral hygiene instruction and for use in discussions of various treatment options . It will improve acceptance of patient treatment by their visual integration into the treatment process. They will no longer just have to take your word but can now be shown why treatment is necessary. This $1100 camera does not have Frame store facility, how ever that could be done via a computer capture card.
price: only $1100 plus gst !!

QUAD FRAME STORE
We do now stock the next model that provides Frame store, the camera is the same lightweight handheld ergonomic unit but there is an associated digital control module with a plug in foot switch . This enables up to four stored full screen freeze frames to be held and retrieved for discussion with the patient
price: only $1650 plus gst !!
Both come with a 12 month warranty
Pinfold Health Services Ltd,1172 Arawa St, Rotorua 3201,New Zealand. ph +64-7-3488850 fax +64-7-3486555 pinfold@xtra.co.nz